Biologic Injectables
Are you suffering from joint, knee, or back pain? Regenerative biologic injectables may be exactly what you've been searching for. At Trilogy Medical, we utilize the healing benefits of regenerative therapy that relieve pain and provides an alternative to surgery, that will have you feeling better with less downtime. Our experts specialize in regenerative medical therapies that are minimally invasive and backed by science.
What Are Biologic Injectables?
Regenerative Medicine using Biologic Injectable material is a non-surgical solution for joint and spinal degeneration and injuries. Knees, Hips, Foot, Ankle, Shoulders, and Spine are commonly treated successfully. The simple in-office procedure helps initiate the body's elf-recovery process allowing patients to quickly get back to their normal routine. Biologic Injectables have shown promising results for men and women with chronic disorders who aren't ready to undergo risky surgical procedures. Treatments safely and effectively provide long-term results.
Biologic Injectables use FDA inspected and certified isolated peptides and undifferentiated pluripotent mesenchymal stem cells from the amniotic extract. Exosomes secreted from the stem cells can be isolated and used for their anti-inflammatory effect and valuable growth factors. They can be used alone or with stem cells to help repair damaged tissue, relieve pain, and improve function long-term. Treatments are quick, easy, and can typically be done in less than an hour. You can return to normal activities the same day. This is often a great solution when surgery is either not desired or not an option.
What Areas of the Body Does It Treat?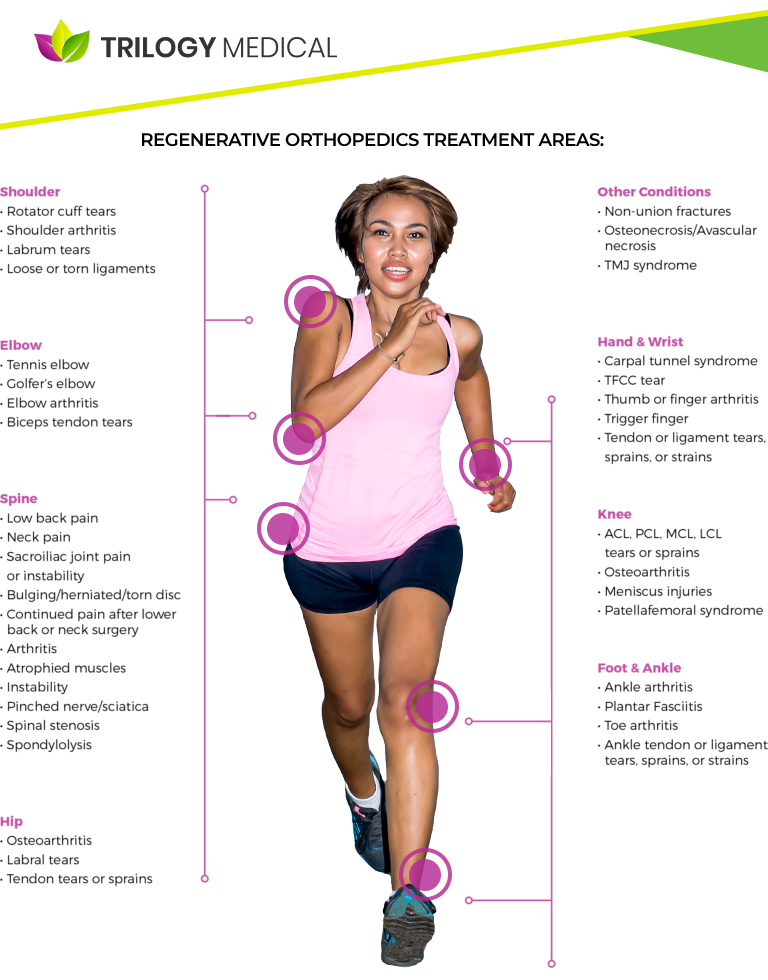 Undifferentiated pluripotent stem cells have the ability to grow into virtually any type of tissue in the body making them effective for a variety of conditions. When injected at precise locations, the cells start to take instructions from surrounding cells and eventually duplicate them.
When treating joint disorders these progenitor cells are placed in areas where they will develop into essential cartilage, tendon, disc, and meniscus. For back and neck pain the biologic injectable is injected into the facets and ligaments in the attempt to repair tears and degeneration.
Who Is A Good Candidate for Biologic Injectable Therapy?
You may be a good candidate for Biologic Injectable Therapy if you'd like to successfully avoid more invasive surgical options for back or knee pain caused by past trauma or injury. Regenerative Cellular Therapy is also effective for treating age or genetic-related joint pain. Dr. Lester will determine your candidacy for the procedure at the time of your consultation.
In many cases, the anti-inflammatory effects of biologic injectables are noticed within days. Patients will often walk better immediately after injection into the knees. It takes 9-12 weeks for new tissue to start to grow. Repeated injections at 3-6 month intervals are needed when there is more extensive damage, or if a person is ill or elderly.
Aside from minor pain at the injection site, Biologic Injectable Therapy is typically well-tolerated. A topical anesthetic cream is applied beforehand, and injections have anti-inflammatory properties to minimize any post-treatment discomfort. There is no typically downtime after the injection or infusion. Depending on the significance of your injury, Dr. Lester may create a custom recovery plan.
Find Relief for Joint Pain at Trilogy Medical